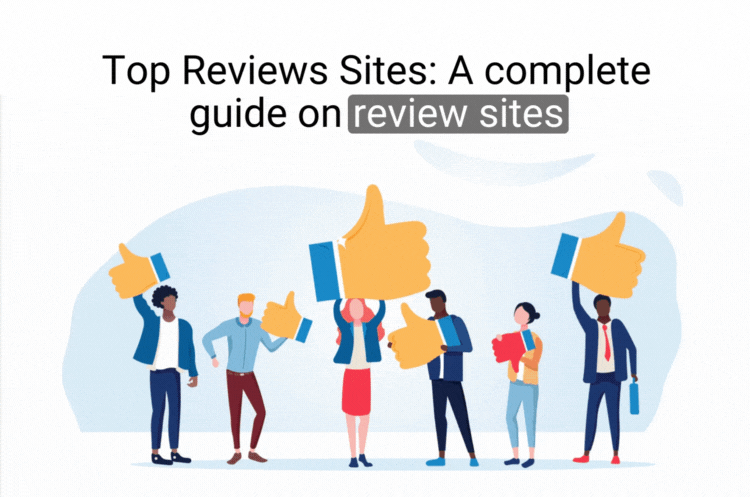 Top Reviews Sites: A complete guide on review sites
In today's digital age, online reviews have become an essential part of the decision-making process for consumers. Whether someone is looking to buy a new product, hire a service, or visit a restaurant, they often rely on online reviews to make an informed choice. As a result, online reputation management has become a critical aspect of building a successful brand. One way to manage your brand's online reputation is by leveraging the power of online review sites. In this blog, we will provide a complete guide on the top review sites and how businesses can utilize them to build a better brand reputation.
Top Review Sites:
Google My Business: Google My Business is the most influential review site, and it is essential for businesses to claim their Google My Business listing to ensure that they have control over the information displayed about them. Positive reviews on Google My Business can significantly improve a business's online reputation and visibility.
Yelp: Yelp is a review site that is primarily focused on restaurants and businesses in the food industry. However, it has expanded its coverage to other industries such as health and beauty, automotive, and home services. Yelp is widely trusted and can have a significant impact on a business's reputation.
Facebook: Facebook has a review feature that allows customers to rate and review businesses. Facebook reviews are displayed prominently on a business's page, making it essential for businesses to manage their reviews on this platform.
TripAdvisor: TripAdvisor is a popular review site for the travel industry. It allows customers to review hotels, restaurants, and attractions. A high rating on TripAdvisor can significantly impact a business's bookings and revenue.
Amazon: Amazon is the largest e-commerce platform in the world, and customer reviews are an essential part of its product listing. Positive reviews on Amazon can increase a product's sales and visibility.
BBB: The Better Business Bureau (BBB) is a non-profit organization that provides ratings and accreditation to businesses. BBB ratings can significantly impact a business's reputation and credibility.
Angie's List: Angie's List is a review site that focuses on home services, such as plumbing, landscaping, and home repair. Positive reviews on Angie's List can help businesses to attract more customers and grow their business.
At Build Brand Better, we understand the importance of online reviews in building and maintaining a positive online reputation. By leveraging the power of online review sites, businesses can improve their brand reputation, attract new customers, and increase revenue. Our team of experts provides customized solutions to help businesses manage their online reviews effectively. Contact us today to learn more about our services and how we can help your business build a better brand.